Whole Campus 101: First Steps in Integrating Faculty into Your Movement
1.  Watch this brief video by James Drake, MTL from South Florida and discuss with students, leadership team and/or Cru staff team.
Video:  https://vimeo.com/144912136
Pwd:  jamesdrake
Discuss: What would it be like to have Christian professors engaged in your student movement? How might God use you in the lives of professors on campus?
2.  Show these two videos to students, leadership team and/or staff team— one from professors at Purdue, the other from Univ of Florida. 
Purdue Video
http://www.youtube.com/watch?v=JQd_V-B_0js
University of Florida Video
Discuss: What are some of your thoughts/emotions as you listen to this? What are some ways Christian professors could possibly make a unique contribution to a student group? How might student groups make a unique contribution towards encouraging Christian professors?
3. Ask a Christian professor you know to come to your staff meeting or student leadership meeting.
You might ask them to share about their own spiritual journey, or about what it is like to be a Christian and a professor, including their journey to being a professor, the opportunities, and the challenges.  Pray for them.
4. Initiate with Christian professors you already know. 
Professors are generally very busy so don't assume a long appointment. Better to go 15 minutes, or 30 minutes at best, than to wear out your welcome. You can always try again later.
Two questions will always serve you well with professors: 1. Tell me about your journey to becoming a professor of Biology (for example). When did you first get interested in it? What was your journey like? What do you do now?
This question will work great with professors who aren't Christ-followers.
 A second question specifically for Christian professors: 2. Tell me about your spiritual journey. When did you first become interested in Christ? What has your journey been like (the ups and downs)? What is it like now, as a Christian professor? 
Thank them/offer to pray for them.
5. Give a copy of A Grander Story: An Invitation to Christian Professors to your faculty advisor, or other Christian professors you might know on campus.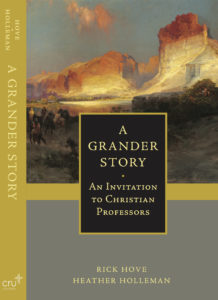 You might do this when you first meet personally (see #4 above). We can get you books. Tell them you thought they might enjoy the book, and that you'll check back with them to see what they think of it, If they liked it, etc.  Connect interested professors to your local Cru staff, and Faculty Commons.  To get books or connect with us: info.facultycommons@gmail.com.
6. Use "thankaprof" cards to thank/meet professors.
Gratitude is an important fruit of the Christian life, and what better way to learn to say "thank you" than with your professors? You can do this many ways. Some do it at a leadership meeting, or weekly meeting, or at a table outside of the student union. Have this card printed locally (note the cut marks) on a nice cardstock.  Use A6 envelopes.  Hand out the cards and ask students to write a brief thank you to a particular professor for something he/she appreciates about the professor. Put the professor's name on the envelope and deliver the cards in person.
Here's a template for the "thankaprof" cards you can print locally:  "Thankaprof template."
As you deliver the cards to express gratitude you might pursue a further conversation with something like, "Maybe someday, we can grab coffee.  I'd love to learn more about you, and why you think students so enjoy your classes."
7. Change how you dream/pray for the campus by praying in a "whole campus" way.
When we pray for dorms, or for athletes, Greeks, and internationals, for example, we are praying like the campus consists of students only. Begin to pray for every student, grad student, and their professors, or that God might raise Christian professors and grad students in each department. You can ask the staff (or students) at a prayer meeting to share their major, and then take time to pray for professors and grad students who work or study in that department; they will likely know many by name. Pray God will gather Christian professors and grad students to, and send Christian professors and grad students from, your movements. Pray God will work across the whole campus, not just students.
We are better together.  We need to bring all the resources of the university—faculty, grad students, students, and ideas–to bear in building God's kingdom.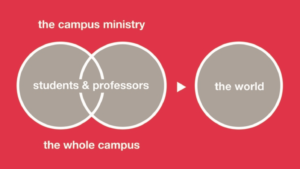 Another idea: do a prayer walk around campus built around academic buildings/departments.
Another idea: encourage grad students and students to pray for each of their professors at the very start of each class.
8. Get your whole staff team, grad students and students to sign up for Missional Moments here.
This short weekly email is sent to over a 1300 professors and grad students each week. You can sign up for it here under link: Get Missional Moments: https://www.facultycommons.com/.   It will help you learn about encouraging Christian professors. You can forward the link to any faculty or staff or volunteers you know so that they can sign up for themselves.
9. Do a Top Professor of the Quarter (or Semester) Selection
Shawn Cramer, MTL in Denver, shared this idea:
Each quarter, we as the campus ministry vote on our favorite professor. Then I take the student who nominated the prof and take the prof out for lunch. I ask them about their journey as an educator and their spiritual journey. This is only our second one, but professors eat this up (literally and figuratively!). We hand them a basic certificate and students get to participate as well. Really fun stuff. I thought you'd enjoy it. — Shawn Cramer
Dr. ????
I represent one of the largest student organizations on campus called Cru. We help students develop in all areas of life: relationally, spiritually, emotionally, academically and socially. We strongly affirm DU's mission in engaging with students in advancing scholarly inquiry, cultivating critical and creative thought and generating knowledge.
Each quarter we want to highlight a professor who is helping build into DU's students with excellence. By popular vote, you were selected this quarter!  I would like to invite you to lunch near campus on us with me and the student who nominated you, Kieryn Wurts-Hammond, so that we can appreciate you and present you with the award. Would you be available Wednesday March 5th, Friday March 7th or Monday the 10th for a quick lunch? The 10th is our first choice if multiple days work for you. I look forward to personally meeting you,
Sincerely,
Shawn Cramer
City Director, Denver Cru
Affiliate staff of the Chaplain, University of Denver
Campus Consultant, Life Coach and Mentor