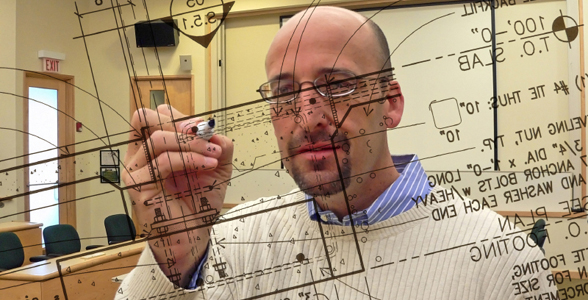 The Whole Campus - The Whole World
Faculty Commons, a ministry of Cru, is committed to bringing all the resources of the university (faculty, students, and ideas) to the world for the advance of the loving rule and reign of Jesus Christ. We dream of the day when movements of Christian faculty willingly wrestle with the ever-challenging question: "As Christ-followers, what should we do in the academy?" We'd like to help.
"The enormous challenges today facing our nation and the world require men and women whose thirst for knowledge is coupled with spiritual wisdom and moral character. Faculty Commons understands this!"
Marla Frederick
"If I could start Campus Crusade for Christ over again, I would begin by working with professors."
William R. Bright (1921-2003)
"There are few things that give me more pleasure than to praise the work of Faculty Commons. Their unique contribution on campus is to nurture those who are professors now and those Ph.D. candidates who plan to be professors in the future. They challenge us to be truly Christ-like—even when there are costs to our discipleship."
Robert P. George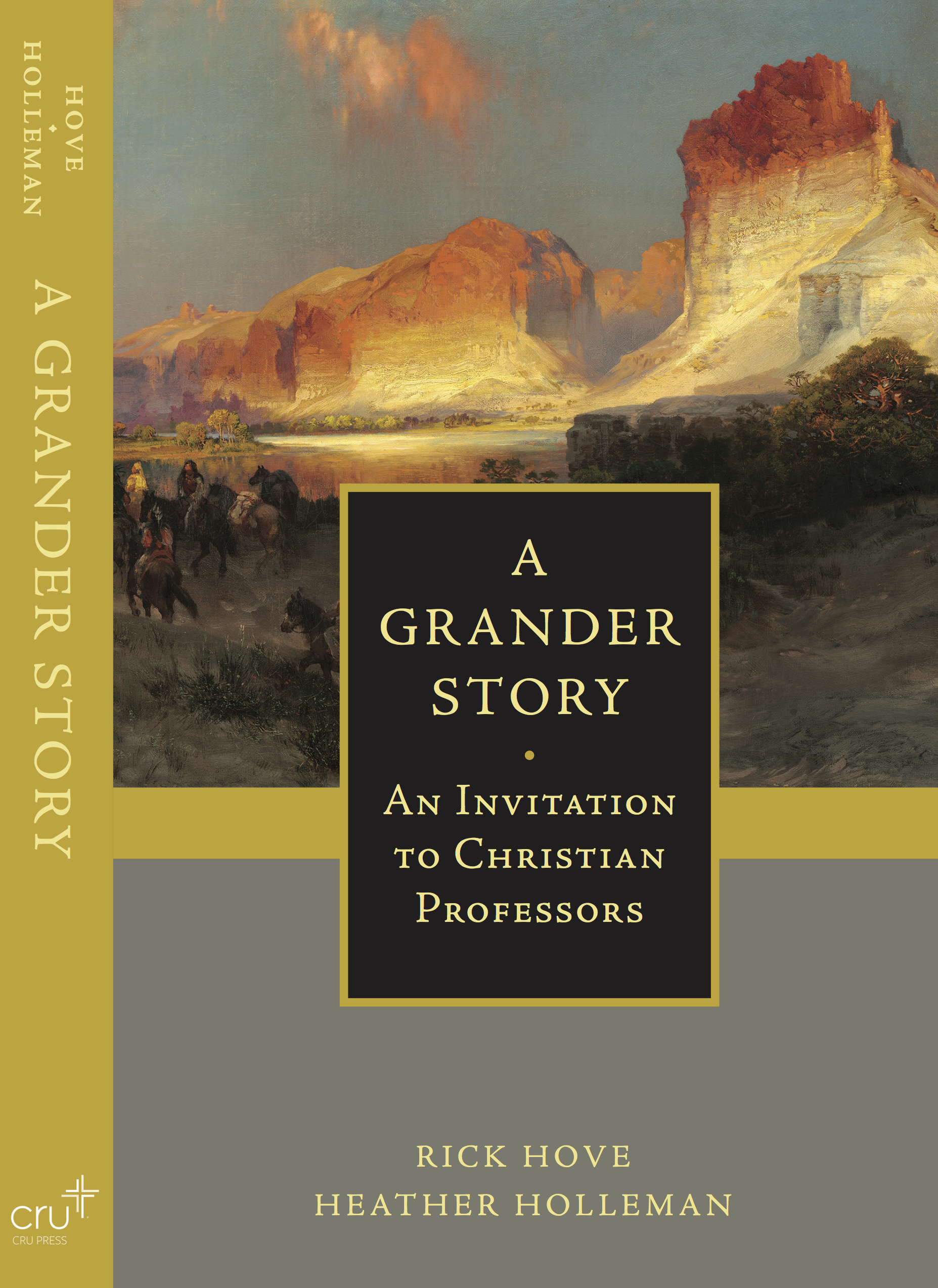 Join A Grander Story
How do we faculty members thrive in God's grander story?
A Grander Story: An Invitation to Christian Professors answers this question by providing a biblical understanding of a professor's identity in Christ and unique calling to Christian scholarship, teaching, and department life.
By showcasing a theology of the grander story, six faculty narratives, resources, and discussion questions along the way, A Grander Story both inspires and equips Christian faculty to think differently about their lives and work.
This book is a celebration of our high calling as Christ followers on the university campus . . . Read this book to be uplifted, to find your place in God's grand story, to know you are not alone, to integrate your faith and work, and to be equipped for ministry. Then give a copy to every Christian professor you know.–Charles M. C. Lee Moghadam Family Professor of Management Stanford Graduate School of Business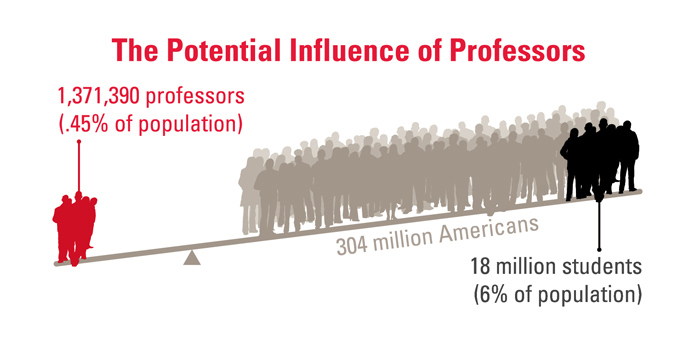 "I know of no other ministry that trains, mobilizes, encourages and sends Christian professors into the spiritual battle on the university campuses as effectively as Faculty Commons."
Henry F. Schaefer III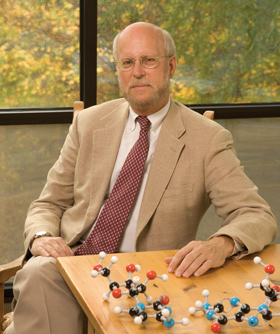 Although they represent less than 1% of the total US population, the faculty on our universities wield more influence on the future than any other group.
Population of US--310 Million
Students in U.S.--19 Million
Faculty in the U.S.-1.3 Million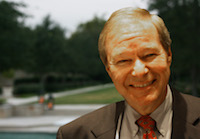 Check out Common Call Conferences 
Dr. Walter Bradley never planned to be a professor, much less a Christian professor. His goal was to use his degrees in mechanical engineering and materials science in private industry.
But God had other plans for Dr. Bradley and his wife Ann. Now at the end of a long career in academia, they have led to Christ and mentored many students and professors. The ripple effect of their impact for Christ in the most influential institution in our culture—our universities—is vast and continues to expand.
"Universities are one of the key institutions of influence in our culture, and professors are the gatekeepers who dispense that influence, for better or worse," notes Dr. Bradley. "God called Ann and me to be 'missionaries' to one of the most strategic and spiritually needy corners of the United States: the public university campus."
Over a career that spans 42 years and three universities, Dr. Bradley has partnered with Faculty Commons to reach out to students and colleagues with the good news of Jesus. He has also mentored many younger Christian professors, teaching them how to have an impact for Christ in secular universities.
Dr. George Davis is one of them. Early in his career, at Texas A&M University, Dr. Davis encountered Dr. Bradley. "He made an impact on me in many ways," says Dr. Davis.

He vividly remembers watching Dr. Bradley stay for an hour answering questions from students after a lecture on science and faith issues. Now a professor at Virginia Tech, Dr. Davis emulates his mentor and is actively involved in ministering to students through Cru.
Dr. Bradley teaches and models for younger professors how he shares his faith in Christ with colleagues and students. He also models how to use your expertise to serve the poor of the world.
During his last academic stop at Baylor University, Dr. Bradley says, "God brought to my attention the plight of 11 million poor coconut farmers around the world that make $2/day. But how could a materials scientist help coconut farmers?"
He discovered that the agricultural waste—the coconut husks and shells, which used to be simply thrown away—could be used to manufacture car parts and other products. "We were able to create about 100 jobs in Indonesia for several years but the operations for this production are now in the Philippines where a larger number of villagers are being blessed spiritually and economically through the work of a triple bottom line company called Dignity."
Another mentee of Dr. Bradley's, Dr. Marc Compere of Embry-Riddle University, also uses his mechanical engineering expertise to serve the world's poor. Each summer, Dr. Compere takes his students on a trip to design and install water purification systems in third world nations.
This year, Faculty Commons is leveraging Dr. Bradley's influence by hosting him at four regional conferences. We are thrilled to give him the opportunity to influence a new generation of Christian professors!
–Ceil Wilson
Rick Hove On the Role of Professors
Resources
Check out these ideas submitted by Christ-following faculty.
Friday Night at the Movies
For many years, Walter Bradley (
Walter Bradley retired recently as a distinguished professor of engineering at Baylor University. He was previously a professor of mechanical engineering at Texas A&M University for 25 years, including 10 years as department chair.)
used a "Friday Night at the Movies" resource to provide an opportunity for students to be exposed in a thought-provoking way to the big questions about life and to engage in discussion of these questions. Find out more
here
.  
What We Don't Say in The Classroom Event
Over the last several years, Christ-following faculty have hosted a "What we don't say in the classroom" event to expose faculty and students to the story of their spiritual journey. Find more
here
.  
A Newspaper Ad sponsored by Christian Faculty
Do a newspaper ad sponsored by Christian profs across the campus.
Pray for the strategic outreach of faculty on your campus.
Challenge those profs to put an ad in the school newspaper.
Good times to do an ad: start of semester, Thanksgiving holiday, Christmas, Valentine's day, and Easter. The ad will usually have a theme to it.
Samples of ads. Go to our resources page. Usually an ad will include name and department of professor. Include a link to everystudent.com or other similar links.
Call the school newspaper for details about ads. You want the ad to be the biggest ad on the page, but it doesn't have to cover the entire page. Normally, a student organization can get a greatly reduced price. Have the local CRU movement help set it up. Find out the price. Find out when you need to have the ad submitted by for publication.
Challenge the professors to pay for the ad. Or use other means of funding the ad.
Have the local CRU movement be praying for the release of the ad.
Help prepare the professors to know how to respond when they get comments about the ad.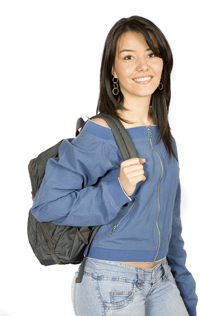 April
College Student
My Story–A Student's Perspective
"Nothing makes sense to me and I don't know if it is ever going to. I am completely lost." April, a freshman, was nearly finished with her latte in a campus coffee shop. She was talking with Paul, a doctoral student in philosophy and a teaching assistant for one of her classes.  She discovered that many professors view Christianity not as "the truth" but as "one culturally-relative view among many." April found this approach confusing and depressing. Paul, a Christian involved with Faculty Commons, had a different perspective. She sought out his opinion and asked: "If everyone in the world is searching for meaning in different ways and each claim they have found it, how could there be a universal meaning?" "What if I need to believe in some kind of ultimate reality, some kind of perfection behind all the chaos in the world, some kind of transcendent power…because I cannot live with the idea of being utterly alone in both life and death?" Paul explained the good news of Christ to April and answered many of the objections to Christianity she had learned in several of her college classes. He also connected April with Lisa, a Cru staff member. The two met weekly to study the Bible. A few weeks later, April e-mailed Paul: "A couple nights ago, I finally decided to go for it and invited Christ into my life.  Thanks for talking to me."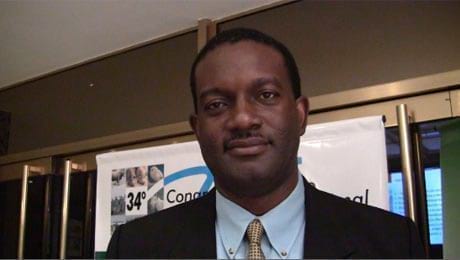 Dr. Adegbola Adesogan
Faculty
Nilson Award Winner
It is our extreme pleasure to announce the 2017 Nilson Award winner.
He is Dr. Adegbola Adesogan of the University of Florida.  He is a professor of animal nutrition who is widely published and has received millions in grants.
Howie and Nance Kauffman have worked with him since 2002.  Here is how Howie describes him:
"My wife, Nance and I have known Gbola since 2002 and in all that time, we've only heard good things about him. He's a well-respected elder at his church where he has opportunities to preach and I've heard from faculty in his church that he knows and loves the Word. This is also evident when he leads devotions at our faculty leadership meetings and when he speaks at our monthly faculty luncheons. Anyone who hears Gbola pray, knows this is a man of faith; one who connects deeply with the Lord."

Frontlines: Quarterly Newsletter
News, Trends And Opportunities At America's Universities
Over 1000 faculty and friends of Faculty Commons receive this quarterly mailing. You'll find the articles and resources helpful.
Latest Edition: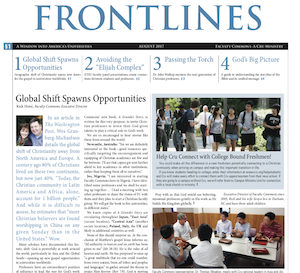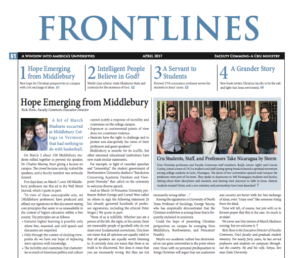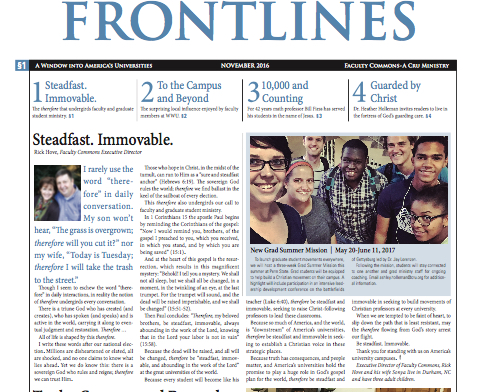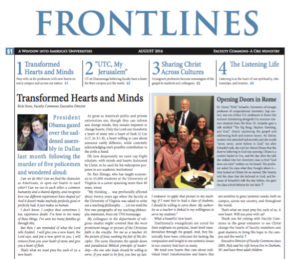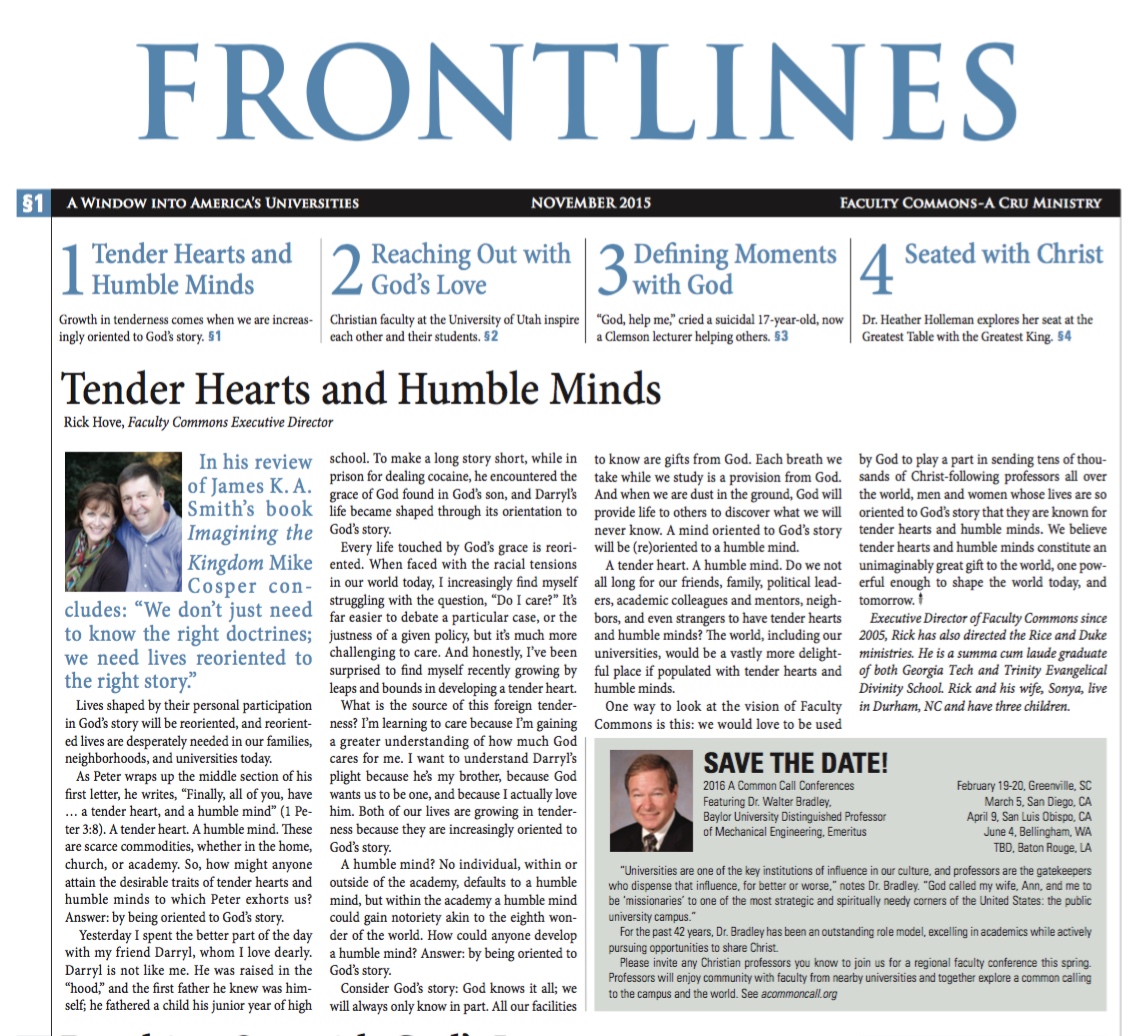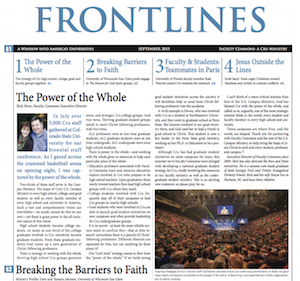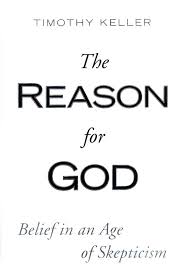 Looking for your next read? One that will sharpen your thinking about tough questions and also deepen your understanding of your relationship to God? Then consider reading Tim Keller's The Reason for God. Two things stood out to me as I read through it.
First, Keller's approach to many of the topics is fresh and real. He uses dialogue with skeptics in his church to help readers see the practical need to deal with each subject. As you read the chapters, you find yourself thinking again and again, "Hmm, I never quite thought of it in those terms."
Second, Keller's tone struck me as perfect for our present culture. People have been traumatized by the unloving rhetoric of some Christians, and many have their defenses up. Keller looks at all sides of the issue and gently encourages the reader to weigh what he has to say and come to their own conclusions. This helps a person relax and be more open to the insights and truths he shares.
Not only has the book stimulated my thinking and growth, but it has been easy to suggest to skeptics and seekers.
The following quote from Keller captures his motivation in writing the book.
"Believers should acknowledge and wrestle with doubts—not only their own but their friends' and neighbors'. It is no longer sufficient to hold beliefs just because you inherited them. Only if you struggle long and hard with objections to your faith will you be able to provide grounds for your beliefs to skeptics, including yourself, that are plausible rather than ridiculous or offensive.  And, … such a process will lead you, even after you come to a position of strong faith, to respect and understand those who doubt."
The topics he deals with in the first half of the book are ones people are wondering about like: "You Can't Take the Bible Literally, Can You?", "There Can't Be Just One True Religion" and "Science Has Disproved Christianity."
As I have led discussion groups with professors using The Reason for God, I have heard comments like, "He didn't answer the question the way I was expecting him to," or "I thought I would hate this book but he really won me over with his open approach and solid reasoning."
Topics in the second half of the book build upon the reduced defensiveness the first half has produced. Topics like "The Clues of God," "The Problem of Sin" and "The (True) Story of the Cross" bring readers to deeper understanding of God and what He offers us in a relationship with Jesus.
The Reason for God is a "must have" for every Christian's library and a great tool to lend to and discuss with a friend. It's easy to see how Keller's approach attracted enough believers, skeptics and seekers to make it a New York Times bestseller.–Dave Johnson, FC Staff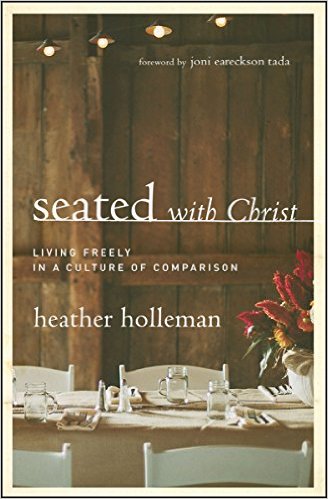 As a Penn State writing instructor obsessed with vivid verbs, I never imagined that God would use my verb passion to allow me to write an entire book on a single verb. How in the world did this happen? Three years ago, I was invited to speak to a group of Cru leaders. I had been examining Ephesians 2:6 where Paul writes, "And God raised us up with Christ and seated us with Him in the heavenly realms in Christ Jesus." As I wrote my talk, I couldn't stop thinking about that verb, "seated." I kept repeating, "I'm seated with Christ."
This verb, seated, captured my heart as I realized Paul was writing about this special seat from a prison cell. How could Paul feel "seated with Christ" even there? I had to know more about this "seated" reality. I imagined the security and sense of belonging that came with having a seat at the most important table in the universe with Christ and other Christians.
How would that seated person live? What would it feel like to have a special place at God's royal table?
I knew this: I was not living as one who had a seat at the table; I lived as one fighting for a seat at the table. As a result, I lived a self-conscious, self-obsessed life where I compared myself to others and felt either jealous or superior. I lived imprisoned to the Three A's: Appearance, Affluence, and Achievement. I believed I could finally have the seat I'd been waiting for all my life based on these categories.
But when I realized I was already seated at the table, I learned to transform the Three A's into another set of verbs. Seated people don't obsess over appearance because they are too busy adoring the King. They don't worship affluence because they know they have access to God's riches at all times. Finally, seated people don't worry about achievement anymore because they simply abide and inevitably live out the "good works prepared in advance for [them] to do" as promised in Ephesians 2:10.
I rejoiced that I already had a seat at the table. I could now enjoy Jesus and love others well without needing attention or recognition. And just like Paul, who knew this reality even from a cold, dark prison cell, I can experience being seated at the Greatest Table with the Greatest King no matter where I am or what's happening to me.
This truth has changed everything about me. My journey of finally taking my seat became this book that now hopefully helps others understand their identity in Christ.
Designed for Bible studies and book clubs, Seated with Christ has discussion questions at the end of each chapter. I hope this book helps you encounter Jesus afresh through this overlooked verb.
–Author's perspective: Dr. Heather Holleman, Lecturer, English, Penn State University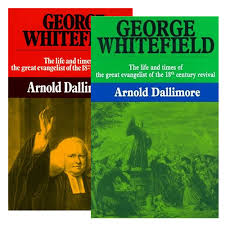 There is one person I consider to be a hero; I was driving to Kentucky with him when he introduced me to another hero. Dr. Henry (Fritz) F. Schaefer III is the most outstanding Christian professor I know, not only for his status as one of the top theoretical chemists in the world and not only because he has shared the gospel with hundreds of thousands of college students and professors, but mainly because Fritz loves Jesus passionately and it shows.
As I tagged along with Fritz for his lecture, he said, "Bill, do you want to know the best book I have ever read, apart from the Bible?" Of course I did, but I figured it would likely be in the upper stratosphere where only the Mensa dare tread.
He surprised me by saying it was the biography of George Whitefield by Arnold Dallimore. I was immediately interested because of my love of history and biographies. Then he said, "It's in two volumes of about 600 pages each."
Saddened, I envisioned page after page of laborious detail. My attention span would be spent after about 40 pages. But Fritz does not issue praise lightly so I listened to his pitch, quite sure that my eyes would never see Dallimore's account of the life of George Whitefield.
The next week, Volume One showed up in the mail, a gift from Fritz. Now I had to read it! Like most biographies, the first chapter or so sets the historical background of Whitefield's birth in 1714 and chronicles the vague information that's known about his early years. Having dispensed with these preliminaries, Dallimore's book reads like a prequel to the Indiana Jones series, with one adventure after another. There's head-scratching drama with the Wesleys; physical, emotional, and spiritual opposition at every turn; and efforts to find a bride that were so ill-conceived that they are hilarious.
But at its core, the book is about a man who had a zeal for the gospel, who refused to speak ill of other Christian leaders even at the cost of his own reputation, who navigated the confusing doctrinal waters of the time with clarity that is astounding, and who the Holy Spirit used to bring new life to literally thousands of people every day. Thus ended volume one and the man was scarcely 25 years old. I couldn't wait to read volume two and it was not a disappointment.
Whitefield was a "rock star" in England and especially in the colonies. But he was a rock star who started orphanages, mentored younger ministers, and woke up at 4am to pray and study the scriptures. Dallimore's book quotes firsthand accounts of people following the trail of dust and thundering of horse hoofs to find where Whitefield was speaking.
A skeptical Benjamin Franklin measured the distance from which one could hear Whitefield's voice and concluded that, indeed, 30,000 could hear him at each outdoor sermon.
Jonathan Edwards was moved to tears after Whitefield preached at his Northampton Church. Perhaps most vivid were accounts of people who were moved to repentance at the first sound of Whitefield's voice. He preached 4-7 times a day until he literally wore out and died at age 55.
It's said that the problem with Christianity is we've managed to make it boring.
My new hero, George Whitefield, proves that if one has a zeal for the gospel, one's life will never lack for adventure. I only wish there had been a volume three.—Bill Hager, Faculty Commons Staff
God Space: Where Spiritual Conversations Happen Naturally by Don Bredle, PhD, Associate Professor Emeritus, University of Wisconsin-Eau Claire When I retired from teaching exercise science in the Kinesiology Department at the University of Wisconsin-EC,...
read more
Address:
Faculty Commons
2001 W. Plano Parkway
Plano TX 75075