201: The Next Steps in Developing a Faculty Movement
1. If you haven't connected with us, do so. We'd love to help. Info.facultycommons@gmail.com
2. Continue to seek God. Ask him to add to your numbers. Most universities are very "siloed." Professors in the accounting department do not know professors in the Biology department.  Continue to pray, and seek ways to gather others, as even once you've gathered a small group, there are likely others who might be interested.
You want the center of your group to be God, at all times. In the beginning is the crucial time to establish this.
3. Continue to discuss A Grander Story. It will give others a chance to connect, as well as encourage each person to step out to try a few things. As new folks join you, engage them in this as well.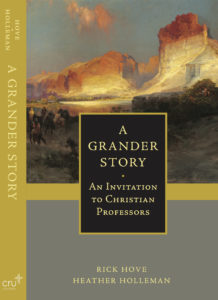 4. Take the time to invest in each other.
Take for time for each person to run through the  "heros, highlights, and hardships" of their life. Who has shaped them? Why? What are the highlights? What are the hardships? At first pass this might seem incidental to building a thriving faculty group, but apart from God, this is the heart of a thriving faculty group; men and women who care about each other.
5. Grow by doing.
Take your first steps in ministry together. A Grander Story offers many suggestions. Taking steps of faith together builds the community, as well as sets it on a given trajectory. Even simple steps like setting a regular prayer meeting for the faculty group, or hosting lunch for some Christian students in your department, or identifying yourself as a Christian in class will encourage everyone in the group, and build it.
In Acts, the church moved from Jerusalem to Judea to Samaria. You want to establish the trajectory of your group to be from your group to your departments, university, and the world, and you do this by taking the first steps in reaching out to others beyond your group.
An excellent way to take a first step: connect with the local Cru staff. Offer to come to a weekly meeting or small group and share your story of coming to Christ.
6. Begin to talk about what you would like to be as a faculty group on campus.
In the back of A Grander Story, you'll find the mission, vision and values of Faculty Commons. This will provide a place to launch this discussion.
7. Attend a Common Call conference. See www.ACommonCall.org.