PROF101: First Steps in Developing a Christian Faculty Movement
1. Pray. Ask God to connect you with like-minded Christian professors, whether in your department, school, university, church, or on nearby campuses. As you find them, connect with them personally and begin to pray together.
Some places to search for other Christian professors: Inquire at Christ-centered local churches or with friends who attend these churches. Connect with Cru staff members (and those from other Christian groups). Look for faculty advisors for the various Christian groups on campus. Ask other Christian professors if they know of other Christian professors. Post on a faculty list-serve (if there is one).
If you don't know of any other Christian professors, ask others in your church to pray with you that God would bring together such a group.
2. Read A Grander Story: An Invitation to Christian Professors. Discuss the questions at the end of each chapter with a couple of like-minded Christian professors. Learn/grow together.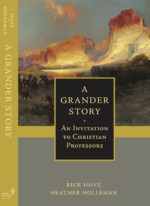 3. Watch these two videos — one from professors at Purdue, the other from Univ of Florida. Share them/watch them with other Christian professors. Discuss among yourselves the various ways a thriving movement of Christian professors on your university might bless undergrads, graduate students, professors, the university and the world.  Also discuss: What are some of your thoughts/emotions as you listen to this? What are some ways we as Christ-following faculty could identify ourselves as Christ-followers. 
Purdue Video
http://www.youtube.com/watch?v=JQd_V-B_0js
University of Florida Video
4. Connect with local Cru staff.
Connect with local Cru, Intervarsity or other Christian para-church organizations on campus.  Share with key leaders about your commitment to Christ and if asked, your willingness to serve as faculty advisor and/or your willingness to share about your own spiritual journey if asked. 
See if there are ways they might help you. Often students will know of other Christian professors. Also, there will be ways for you to begin to develop a groundswell of others who would like to help you as you begin to form the foundation for a Christian faculty movement.
 5. Feel free to contact us in Faculty Commons: info.facultycommons@gmail.com
6.  Get fellow faculty to sign up for Missional Moments here.  If you have any Missional Moments you'd like to contribute, notify jay.lorenzen @ cru. org (no spaces).
This short weekly email is sent to over 1300 professors each week. You can sign up for it here under link: Get Missional Moments: https://www.facultycommons.com/.   It will help you learn about encouraging Christian professors. You can forward the link to any faculty or staff or volunteers you know so that they can sign up for themselves.
7.  If fellow faculty are engaged in social media, encourage them to "like" us at facebook.com/facultycommons and to "follow" us at twitter.com/facultycommons.
8.  Gather other Christian faculty, local Christian leaders, Cru staff and students and begin dreaming/praying for the campus by praying in a "whole campus" way.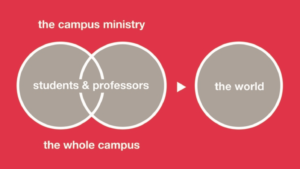 When we just pray for ourselves or other faculty, we're communicating that the campus is just about us.  Or when we pray for dorms, or for athletes, Greeks, and internationals, we are praying like the campus consists of students only.

But we are better together.  Begin to pray together for the whole campus, for every student and professor, or that God might raise Christian students and professors in each department.
You can ask the faculty, staff or students at a prayer meeting to share their major, and then take time to pray for that discipline that it would bring flourishing to the world.
Another idea: do a prayer walk around campus built around academic buildings/departments.

Another idea: challenge professors to pray for their students and students to pray for their professor at the very start of each class.