God Space: Where Spiritual Conversations Happen Naturally
by Don Bredle, PhD, Associate Professor Emeritus, University of Wisconsin-Eau Claire
When I retired from teaching exercise science in the Kinesiology Department at the University of Wisconsin-EC, one of my goals was to turn my attention from physical things that I had studied and taught for many years to spiritual issues that I knew were more important in the big picture.
Dave Johnson, Faculty Commons staff member, offered plenty of suggestions: being more involved in the weekly campus Christian faculty lunch meeting, participating in discussion groups based on The Reason for God by Timothy Keller, engaging faculty and students in spiritual discussions, traveling to A Common Call regional faculty conferences in Alabama and Minnesota, and even going on a short-term faculty mission trip to Uruguay.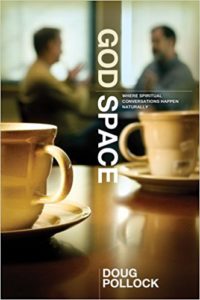 Though I did all these things, I still felt under-qualified and lacking in confidence. For inspiration and practical help, Dave offered me many books. God Space by Doug Pollock has been especially helpful.
The book is dedicated to Christ-followers who long to see the quality and quantity of their spiritual discussions increase in natural and winsome ways. Pollock describes "God space" as a social atmosphere to create, a place where people feel freedom to pursue discussions about spiritual issues without arguments or feeling judged.
I have always felt I could start a conversation with anybody, but moving the conversation towards spiritual issues is difficult for me… and I guess for most people. And not just jumping into the tricky realm of spiritual issues, where it is easy to misunderstand and even offend each other, but, in Pollock's words, "doing it in a safe way, where divine dialogue flows naturally in your everyday life because trust has been established."
Many not-yet Christians are convinced that church is not a safe space. They need low-risk environments where they can share doubts and voice concerns. They need a place where gentleness and respect are present and judgment is absent. They want to explore spiritual topics freely without agendas and biases getting in the way.
To me, that is easier said than done.
Unlike some deep theological books, Pollock's stories are easy to read and fascinating. We can recognize and avoid several spiritual conversation killers, the very first of which is our not believing that the people we meet each day really do want to talk about spiritual things! Other pitfalls include using "insider" language, awkward transitions, disrespect, control, and judgment.
Pollock makes several practical suggestions, many of which I'm trying to incorporate.
Be quick to listen and slow to speak.
Seek to discover people's stories.
Wonder out loud.
Ask questions.
Show curiosity and eliminate fear.
Open the door for mutual discovery.
Ask permission to offer a spiritual appetizer like a relevant Bible verse or an example from your life.
Plant seeds which may lead to transformation, one aha at a time.
So, a year later, although I'm still learning how to create this God space, I am definitely improving.