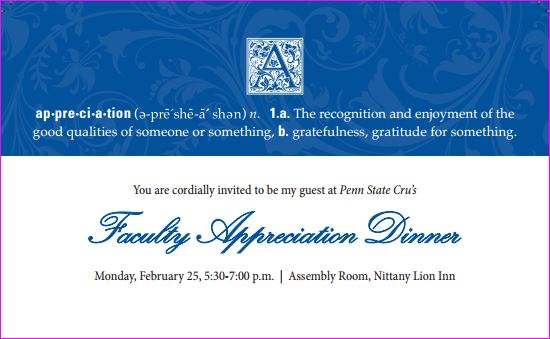 "If I just had one student come by my office each year to say thank you, that would be enough," a Penn State University professor shared. Then he added, "However, I never get that student."
Until recently, that is. The Penn State professor was fortunate enough to be one of 40 who were each personally invited by one of their students to Penn State Cru's first Faculty Appreciation Dinner. Along with the hand-delivered invitations, the students explained that Cru was a Christian group on campus and was hosting the dinner to thank and bless professors.
Most of them–37 professors!–said "yes" and enjoyed a beautiful four-course dinner at a classy hotel near campus.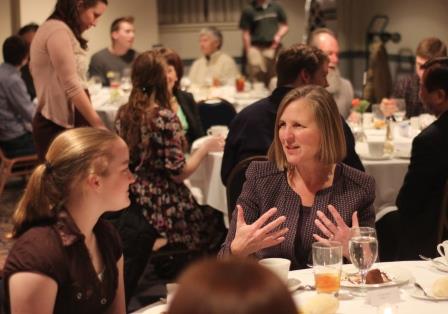 The dinner was spearheaded by Faculty Commons staff Ashley and Heather Holleman, but the Cru students ran the evening. Over dinner, the students told the others at their table of six what they appreciated about the professor seated next to them. From the podium, two senior students spoke briefly to the whole group about their gratitude and their own personal faith stories.
The Hollemans lead a team of two younger staff and work closely with Cru's 10-person student ministry staff team at Penn State. Currently, 45 professors are connected to Penn State's Christian faculty group, along with 50 graduate students–many of whom are preparing to be professors in the future.
Their goal is to work side-by-side, Christian students and Christian professors, to take the good news of Jesus to the Penn State community. The Christian professors speak at the Cru weekly meeting each year, and plans are already in the works for a second Faculty Appreciation Dinner next spring.
Looking back on the evening, Ashley remarks, "It was so cool to see the gospel presented in a way that was relevant and meaningful to the professors."
Clearly, it was. When they were dismissed, no one left. The conversations continued as God led these Christian students into the real lives of real people (their own professors) who need a real Savior.
And the professor who longed to hear one student thank him? He was content. After dinner, he shared how much it meant to have an entire evening dedicated to that "thank you."